THE NAUTICAL DOG

Professional Grooming
Attention: we are no longer Mobile! We have a beautiful Location in Plymouth right on Long Pond rd for easy convince ! All breed Dog grooming, fast efficient service ! Safe clean environment! We also offer puppy kindergarten classes private breed handling classes to!!
The Nautical Dog
128 Long Pond rd
Plymouth Massachusetts 02360
Serving Plymouth since 1981
Hours of operation during Covid 19 vary call for hours
We also offer Blue Ribbon Veterinary service appointments can be made @ 508-746-9091 or text 508-615-1391
Serving the entire South Shore
Owner-Operated by Julie MacKinnon
Bwww.thenauticald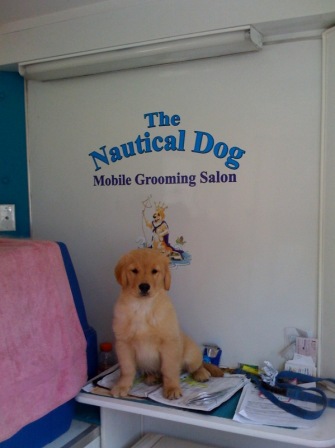 NNoggrooming.com
Please be aware we have a new email address...
You can contact us at
nautilusgold@yahoo.com
Click on links below to go directly to where you would like to look...

Operating Hours and information
Hours of operation 930am-4pm during the Covid 19 we offer limited hours of operation
Please call for appointment
at (508) 746-9091
or Email or text 508-615-1391 during business hours
We strive to go above and beyond a routine bath and clip. Every dog is treated to a Championship grooming from nose to tail!!Every pet is treated to a bath in premium luxurious shampoos and are bathed not just once, but twice, then blown dry by our state of the art forced (cool) air dryer, trimmed and groomed when required, ears cleaned and nails trimmed---all for one price with no extra or hidden charges. We are here to provide you with convenience and above average personalized service for you and your dog at reasonable prices.
Besides the obvious advantages of convenience and personalized service, consider these other benefits:

!

Friendly, personalized service…this is our own business, not a franchise or large grooming shop
so we get to know you and your dog one on one.

We groom in a clean, salon where your dog is much less likely to become exposed to the germs of other dogs.

Most dogs are much happier in the grooming shop--there are no other "scary" dogs, no other dogs barking or howling, and less noise from multiple dryers running all at the same time.

Dogs like our fast efficient service you are not without your dog for long! Not hours being left!!

The dogs are much happier---grooming takes a shorter time when you concentrate on only 1 dog at a time and they are not left in crates with dryers running for long periods of time. Each dog can be given the time to encourage them not to be afraid, so they struggle less.
Safety is extraordinary! The groomer is never more than 3 ft. away from your dog and never left alone.
Dogs that will not or cannot stand well or have medical needs I am happy to offer a special appointment for them…… just ask!!
Testimonials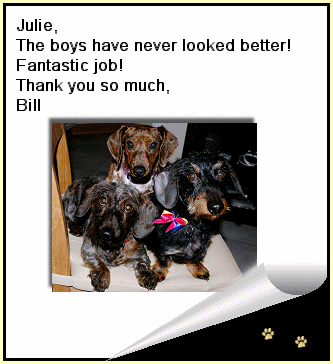 About The Owner
Julie MacKinnon is the owner and groomer---what can be better than dealing directly with the owner. Julie has extensive experience in grooming, training, breeding and showing dogs. In 1981 she obtained her basic grooming education at a private grooming school, "Puppy Love", in Belmont, Massachusetts where she learned the skills needed for all breed dog grooming, staying on there for a year to work and become more experienced. Wanting to be an above average groomer, Julie continued on to the Pedigree Professional School of Dog Grooming to learn the secrets of show dog grooming as well as the art of "hand-stripping" for terriers and some of the sporting dogs.
Julie came to Plymouth in 1981 when she worked for The Town Barker, an established grooming salon on Court St. In 1985, she purchased The Grooming Shop, also in Plymouth on Sandwich St. After many years, Julie decided to change the name to reflect the image she had established in her Golden Retriever show kennel, Nautilus Golden Retrievers. The new name became The Nautical Dog and Julie used a caricature of one of her dogs, Ch. Nautilus King Neptune, as her logo. The new name and logo moved to the waterfront in Plymouth in 1999. The salon later moved once more in 2002 to Sandwich Street to give customers easier access and more convenient parking.
In 2006, Julie opted to cater to many of her clients need for even greater convenience and in December launched her state of the art mobile grooming salon.
About Nautilus Golden Retrievers
Julie's grooming experience goes far beyond that of the average groomer. She has raised and trained many of our country's top show dogs. Her first show dog, Seaview's Nautilus Graham was purchased in 1981 and grew from there. Her 3rd show dog proved to be the foundation of her current day kennel. American/Canadian/Bermuda Champion Twin-Beau-D Nautilus Sea Star, "Jade", proved to be one of the best in the world by becoming an "Outstanding Dam" and producing 25 Champions. To this day, descendents of "Jade" have totaled over 200 Champions, not only here in the US, but also in Brazil, Mexico, Japan, Korea, Hong Kong, Thailand, and Canada.
Julie also co-owns the biggest winning Labrador Retriever in US show history, American/Canadian Champion Aquarius Centercourt Delight.

Visit all the dogs at:
www.nautilusgoldens.comand www.aquariuslabradors.com

Email